Microfibres are smaller than most bacteria. Perhaps that is why microfibre cleaning cloths do such a great job removing bacteria. Tests reveal that just one swipe of a dry microfibre cleaning cloth can eliminate up to 97.8% of bacteria, without the use of toxic chemicals – so why use them when GBPro offer you a cheaper and more efficient alternative. They are able to prevent spreading of bacteria onto other surfaces, because they are able to lift the rather than smear like other normal cloths do. If you want to live in a clean, healthy home, you need to use Green Bear microfibre cleaning products.
Microfibre cleaning cloths:
known as the "Wonder Cloth" can absorb up to seven times its weight in fluids so this makes it extremely efficient with the use of water. You no longer need the bucket full of dirty water to wash floors or other large areas. You can wash our cloths over 400 times at 90c and you can….. but you do not need to do that, because of the quality of our Green Bear microfibre cloths, washing at 40c is sufficient for normal soiled cloths, therefore, the efficiency of the cloth lasts longer, making it far more cost effective than other brands, thus saving more of the carbon footprint – makes sense!
Microfibres work more efficiently damp or dry and with the engineering of this high tech cloth or mop, you are able to clean all areas with ease and in doing so, you will save time, money and most importantly "water", which, less face it, is now becoming a premium commodity.
Green Bear Microfibre products has a high micro mechanics characteristic that enables and enhances dust and dirt removal without the use of any traditional chemical or detergent. Those days have now gone with this technology.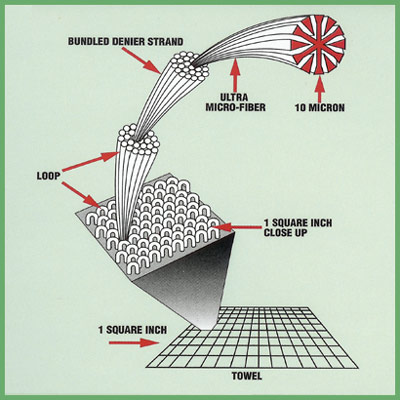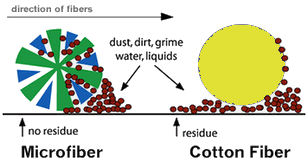 Used dry, the fibre traps dust particles and holds it thanks to its electrostatics function. Used damp, (adding water only!) this fibre traps dust and dirt particles and prevents them smearing back on the cleaned surface as shown in the diagram above "Microfibre design". This product makes the job far easier to achieve in less time for the user in his/her daily cleaning tasks.This fibre is sewn in a very unique and specific way with up to 11 kilometres of thread woven in our 340 gm cloth, on through a manufacturing process that has helped develop a full range of cleaning tools for professionals in the cleaning business. This results in the consumer benefiting by saving energy, time and effort…. most of all saving water. There is no need to drown floors, windows, etc., with water to achieve a clean surface any more.
We offer better and ergonomic cleaning process, more simplistic procedure and cutting out the need for chemical products. Green bear is used and is ideal for the Medical and Food industries, Hotels, Restaurants as well as many other industrial sectors. coupled with our 100% natural cleaning products, there will be no task that you can not achieve.
EFFICIENCY: Better cleaning results
RELIABILITY: No loss of efficiency even after 350 washing cycles
ERGONOMICS: For floors, the user does not have to bend down for long periods… No more buckets, no more heavy loads and more importantly no more waste of that precious commodity
WATER! The hardest thing is to get rid of the age old habit of feeling the need to use lots of water…..
BENEFITS: Considerable time gain in the operating time
ECOLOGY: Reduction in volumes of chemicals and water used Green Bear Eco